---
You are here:
Molecules
> Palladatelluraporphyrin
Palladatelluraporphyrin
E. Dudziak generated porphyrinoid with incorporated a palladacyclopentadiene unit. A transformation of 21,23-ditelluraporphyrin triggered by coordination of palladium(II) resulted in the replacement of a tellurium atom by a palladium atom to form aromatic 21-pallada-23-telluraporphyrin.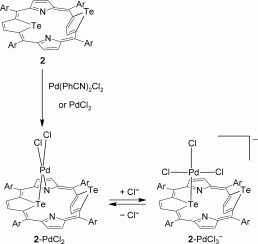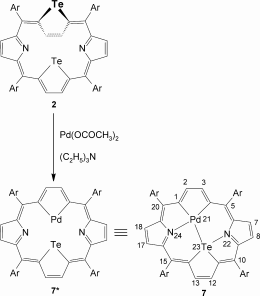 Further reading
Pacholska-Dudziak, E.; Szczepaniak, M.; Książek, A.; Latos-Grażyński, L. A Porphyrin Skeleton containing a Palladacyclopentadiene. Angew. Chem. Int. Ed. 2013, 52, 8898.